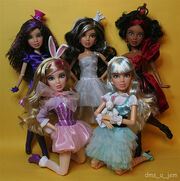 The Liv dolls (with 14 points of articulation) are sold with the line that the dolls can do 150 (different) poses!   
Poses that the doll community appreciate
Post pictures of your dolls in various poses, this will allow a large variety of outfits, hair and poses and will be far more interesting.
Poses that are less useful
The Liv dolls have some poses that are less fun and useful, add the pictures to this page.