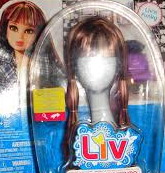 T
he auburn with light highlights wig is sold in a single pack.
Main colour(s)
The main colour of the wig is auburn with pale highlights.
Style of the wig
The wig has bangs and is retailed with the appearance of two ponytails. The hair is straight. The length of the hair extends about 12 cm past the wig cap.
Graphics on the backing card
The doll on the backing card appears to be Daniela and the doll is wearing a plaid jacket.  
Similar wigs
The auburn wig with side pony could be considered a similar wig.