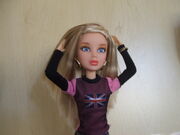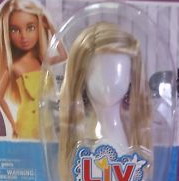 The blonde with brown highlights
wig
is sold in a single pack. 
The official website refers to this wig as 'Honey Blonde'.
Main colours
The main colour is blonde with pale brown highlights across the entire wig.
Style of wig
The wig has a right side parting and some hair on the left is swept across the head by tying into a ponytail - also called a twist style.  The hair is straight.  The length of the hair extends 9.5 cm past the wig cap.
The ties that hold the wig in place cause kinks to form on the hair - one year after release from the packaging the wig is still kinked from the ties.
Graphics on the backing card
The doll on the backing card is Alexis wearing the yellow outfit from the Girls Getaway range.
Similar wigs
There is no similar wig in terms of colour and style, however, the blonde with caramel highlights wig could be a fair substitue.
Ad blocker interference detected!
Wikia is a free-to-use site that makes money from advertising. We have a modified experience for viewers using ad blockers

Wikia is not accessible if you've made further modifications. Remove the custom ad blocker rule(s) and the page will load as expected.