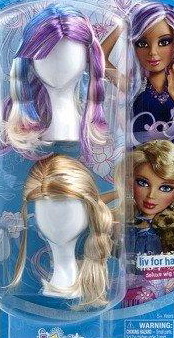 The blonde with caramel highlights
wig
is sold in a double wig pack.
The other wig in this pack is a cotton candy wig.
Main colour(s)
This wig has blonde fibres as the main colour. There are also caramel coloured highlights present on the wig.
Style of wig
The wig has a side pony and the hair is wavy to curly. The length of the hair extends about 8 cm past the wig cap. 
Graphics on the backing card
The doll on the backing card is Sophie wearing a blue top. There are two dolls on on the backing card; this wig is the wig underneath.
Similar wigs
There is no similar wig in terms of colour and style, however, the blonde with brown highlights wig could be a fair substitute.
Ad blocker interference detected!
Wikia is a free-to-use site that makes money from advertising. We have a modified experience for viewers using ad blockers

Wikia is not accessible if you've made further modifications. Remove the custom ad blocker rule(s) and the page will load as expected.