The brown
wig
 with purple highlights is sold in a single wig pack.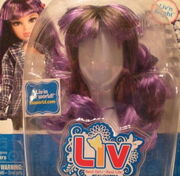 Main colour
This wig has a brown colour with purple highlights. Brown and brunette are considered the same colour on this site.
Style of wig
The wig has a fringe. The hair is straight. The length of the hair extends about 10 cm past the wig cap.
Graphics on the backing card
The doll on the backing card appears to be Katie wearing a black and white plaid jacket with a silver top or dress.
Similar wigs
There is no similar wig in terms of this colour combination.
Ad blocker interference detected!
Wikia is a free-to-use site that makes money from advertising. We have a modified experience for viewers using ad blockers

Wikia is not accessible if you've made further modifications. Remove the custom ad blocker rule(s) and the page will load as expected.