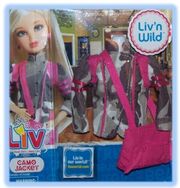 The camo jacket is one of five coats sold. The doll on the backing card is
Sophie
in a blonde wig.
The coat is part of the 'Liv 'n Wild' range.
Main colour(s)
The main colours of the camo jacket are grey, white and cerise pink - with the pink in smaller quantity than the other colours.  The sewing on the front of the jacket is in white (this is not visible on the backing card).
The jacket is pictured on the backing card as having 3/4 length sleeves. The jacket has a Chinese collar on both the actual item and backing card.
The coat has two cerise pink bands as trimming - placed on  the upper arm;  the backing card shows three bands on each arm. 
Tiny metal studs decorate the front but are possibly decorative with velcro used to close the jacket.
There is a cerise pink handbag that appears to be made from a fabric.
Fabric
The camo jacket appears to be made from a lightweight cotton or synthetic fabric.
Ad blocker interference detected!
Wikia is a free-to-use site that makes money from advertising. We have a modified experience for viewers using ad blockers

Wikia is not accessible if you've made further modifications. Remove the custom ad blocker rule(s) and the page will load as expected.