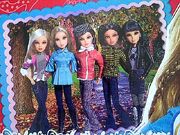 The Liv girl dolls each had a coat in a multipack plus there have been separate coats sold with other playsets and outfits.
The dolls appear together - each dressed in a coat - on the back of the trench coat.  Sophie wears the camo jacket, Hayden the turquoise trench coat, Katie the orange parka, Alexis the hooded pea coat and Daniela the motorcyle jacket.
Sophie's purse outfit -  retailed with a pink jacket and a human sized purse.  The rain gear outfit has a wet weather jacket. See the list of outfits for a quick guide to the coats and jackets.  The descriptions of the tops, coats and bodices gives a general overview of the coats.
The coats exclude the thin outer jackets.
Pages in category "Coats"
Ad blocker interference detected!
Wikia is a free-to-use site that makes money from advertising. We have a modified experience for viewers using ad blockers

Wikia is not accessible if you've made further modifications. Remove the custom ad blocker rule(s) and the page will load as expected.