The girl dolls had numerous outfits released that included shoes, coats, jewelry and handbags.
The clothing was released with a tag line such as "Liv 'n Wild" and normally has a white plastic mannequin wearing the outfit with a doll in the outfit and pictured on the front of the backing card.  The graphics on the back of the backing card normally feature a few outfits taken of the group of dolls in the same release.
The following line of outfits have been seen: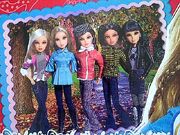 Liv for hair
Liv 'n comfy
Liv 'n cool
Liv 'n cosy
Liv 'n fab
Liv 'n fit
Liv 'n hip
Liv 'n posh
Liv 'n rock
Liv 'n wild
Movie night
Night out
Others (includes Eco Outfit and Sail Away)
The boy doll Jake had few outfits released - only three have been seen - the Lifeguard pack has a vest and accessories, the Night out pack has a grey top and red pants and a Date night has a blue long sleeved shirt and blue pants that could be denims.
Media in category "Category:Outfits"
Ad blocker interference detected!
Wikia is a free-to-use site that makes money from advertising. We have a modified experience for viewers using ad blockers

Wikia is not accessible if you've made further modifications. Remove the custom ad blocker rule(s) and the page will load as expected.