The cotton candy 
wig
has the most colors on a Liv wig and is sold in a double wig pack.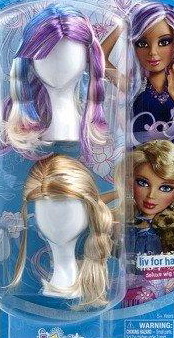 Main colour
This wig has blonde fibres as the main colour. There are pale blue, pale pink, pale lavender and medium blue coloured fibres present on the wig to give the name of the wig as cotton candy.
Style of wig
The wig has a side parting with an elaborate style of long bangs. The hair is straight to wavy on the ends and appears to be loose without any ponytails. The length of the hair extends about 8 cm past the wig cap.
Graphics on the backing card
The doll on the backing card is Alexis wearing the purple top with silver sleeves, with another doll wearing (possibly Sophie) in the blonde wig with caramel highlights.
Similar wigs
There is no similar Liv doll wig to the cotton candy wig.
Ad blocker interference detected!
Wikia is a free-to-use site that makes money from advertising. We have a modified experience for viewers using ad blockers

Wikia is not accessible if you've made further modifications. Remove the custom ad blocker rule(s) and the page will load as expected.