Jake



Eye colour:

Blue

Name of dog:

None

Name of horse:

None

Activities done:

Life-saving

After school activity:

Not known

Other:

Rooted hair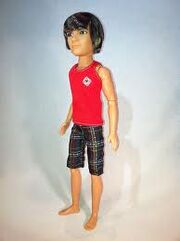 Jake is the only boy Liv doll and was only released with the Making Waves set.
Jake's coloring is brown rooted hair, dark blue eyes and medium skin.
Jake is a lifeguard at the lake (source: Sophie's diary) and he is sold with sunglasses. He is pictured with a lifeguard chair but this was never sold.  As the Liv girls kayak and windsurf, Jake may use his lifeguarding skills.  It is stated that all the girl dolls think he is cute.  He dates one of the Liv dolls according to the diaries.
Jake does not have any pets.
Jake has his original outfit (red vest and plaid shorts), a lifeguards yellow vest outfit and a blue shirt with pants as a night out set.  He also has a red long stemmed rose with his night out set and could be considered romantic. Jake also has the Night Out outfit that consists of a gray shirt and red pants.
Jake has his activities described on a separate page.
Characters | Waves | Wigs
Ad blocker interference detected!
Wikia is a free-to-use site that makes money from advertising. We have a modified experience for viewers using ad blockers

Wikia is not accessible if you've made further modifications. Remove the custom ad blocker rule(s) and the page will load as expected.