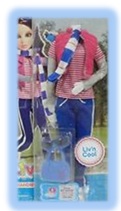 The Jogging outfit retail cost was not available. This outfit has not been seen for sale in the secondary market.
This outfit is part of the 'Liv 'n Fit' range of clothing.
Top
A bright orange top is pictured. An outer tracksuit top in a gray colour with orange hearts is pictured.  The outer top has long sleeves.
Shorts
A pair of dark blue shorts with white trim and having the number '23' (on the front left panel) is pictured. 
The doll is wearing horizontally striped leg warmers that cover her ankles to below her knees.
Shoes
The shoes appear to be mauve in colour.
Bag
A pink coloured tog bag with black trim is visible.
Accessories
A dark blue scarf is wrapped aroung the doll's upper body.
Doll wearing the outfit
The doll featured on the front of the backing card has blonde hair and appears to be Daniela. 
Ad blocker interference detected!
Wikia is a free-to-use site that makes money from advertising. We have a modified experience for viewers using ad blockers

Wikia is not accessible if you've made further modifications. Remove the custom ad blocker rule(s) and the page will load as expected.