The dolls were sold with at most 14 points of articulation. The 14 points of articulation are – 2 wrists, 2 elbows, 2 shoulders, 1 head, 1 waist, 2 legs, 2 knees and 2 ankles.
Some dolls in certain waves (releases) have less than 14 points of articulation.  The Twist & Dance wave dolls do not have the ability to sit, however, these dolls can 'dance'.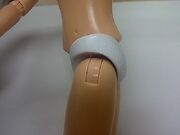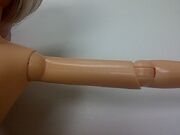 The articulation and
wigs
on the girl dolls were the most advertised features for these
dolls.
Ad blocker interference detected!
Wikia is a free-to-use site that makes money from advertising. We have a modified experience for viewers using ad blockers

Wikia is not accessible if you've made further modifications. Remove the custom ad blocker rule(s) and the page will load as expected.