Liv For Color is a Liv wave that was released in the USA in early 2012, it is one of the last 3 Liv lines. It features each Liv girl in a neon color. All the shoes were recycled from other waves and colored differently.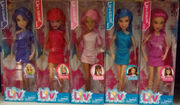 Doll and the colour of her dress and wig:
This Liv line had the Liv body without articulation on the ankles, elbows, wrists and waist.