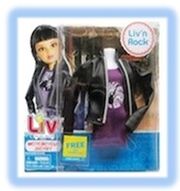 The motorcycle jacket is one of five coats sold. The doll on the backing card is 
Daniela
in a brunette wig.
The coat is part of the 'Liv 'n Rock' range.
Main colour(s)
The main colour of the motorcycle jacket is black with a silver zip.
The jacket has long sleeves and a traditional collar. Velcro is used to close the jacket.
A purple top or tee-shirt is also sold in this pack and has a graphic of a guitar on the front.  The top on the backing card is a mauve (pale purple) colour;  the actual top is more plum coloured.
Fabric
The motorcycle jacket appears to be made from a synthetic leather fabric.
The top also appears to be made from a stretch fabic.
Ad blocker interference detected!
Wikia is a free-to-use site that makes money from advertising. We have a modified experience for viewers using ad blockers

Wikia is not accessible if you've made further modifications. Remove the custom ad blocker rule(s) and the page will load as expected.