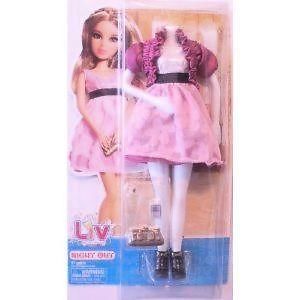 The retail cost of the Night Out dress is unknown.
Dress and shrug
A pale pink satin bodice with a soft draping skirt having a simple five leaf flower design.  A plum coloured shrug is worn on the shoulders.
Shoes
Dark coloured closed shoes.
Handbag
A small clutch bag in plastic and either a beige or tan colour.
Jewelry
No jewelry spotted in the pack.
Doll wearing the outfit
The doll featured on the front of the backing card appears to be Hayden.
Ad blocker interference detected!
Wikia is a free-to-use site that makes money from advertising. We have a modified experience for viewers using ad blockers

Wikia is not accessible if you've made further modifications. Remove the custom ad blocker rule(s) and the page will load as expected.