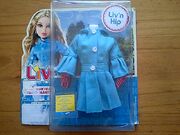 The trench coat is one of five coats sold separately.  It comes with pink & white striped fingerless gloves. The doll on the backing card appears to be
Hayden
in a blonde wig with side plaits.
The coat is named 'coat/manteau' by the manufacturer and the name of turquoise trench coat was from the ShopLivDolls.com site.
Main colour(s)
The main colour of the trench coat is turqouise and there are small white buttons sewn on the front.  The backing card shows a single white button on each sleeve, however, the actual item does not have these.
The fingerless gloves are in a bright pink and white striped fabric.
Fabric
The trench coat appears to be made from a lightweight cotton.
The gloves are made from a slightly stretchy fabric.
Ad blocker interference detected!
Wikia is a free-to-use site that makes money from advertising. We have a modified experience for viewers using ad blockers

Wikia is not accessible if you've made further modifications. Remove the custom ad blocker rule(s) and the page will load as expected.